EXPERIENCE THE RESTAURANT WITH SEA VIEW IN DA NANG
In addition to the restaurant with sea view, the stunning architecture, excellent service, and convenient location of Mandila Beach Hotel make it the perfect place to dine and bond with your loved ones.
I. Luxury restaurant with sea view in Da Nang
Da Nang has many restaurants with sea views, so what makes Halo Bar at Mandila Beach Hotel special? In addition to the captivating and attention-grabbing sea views, there are a wide range of cocktails to choose from and dishes as diverse as Vietnamese, Japanese, and Eurasian dishes, ensuring Guaranteed to make your heart happy.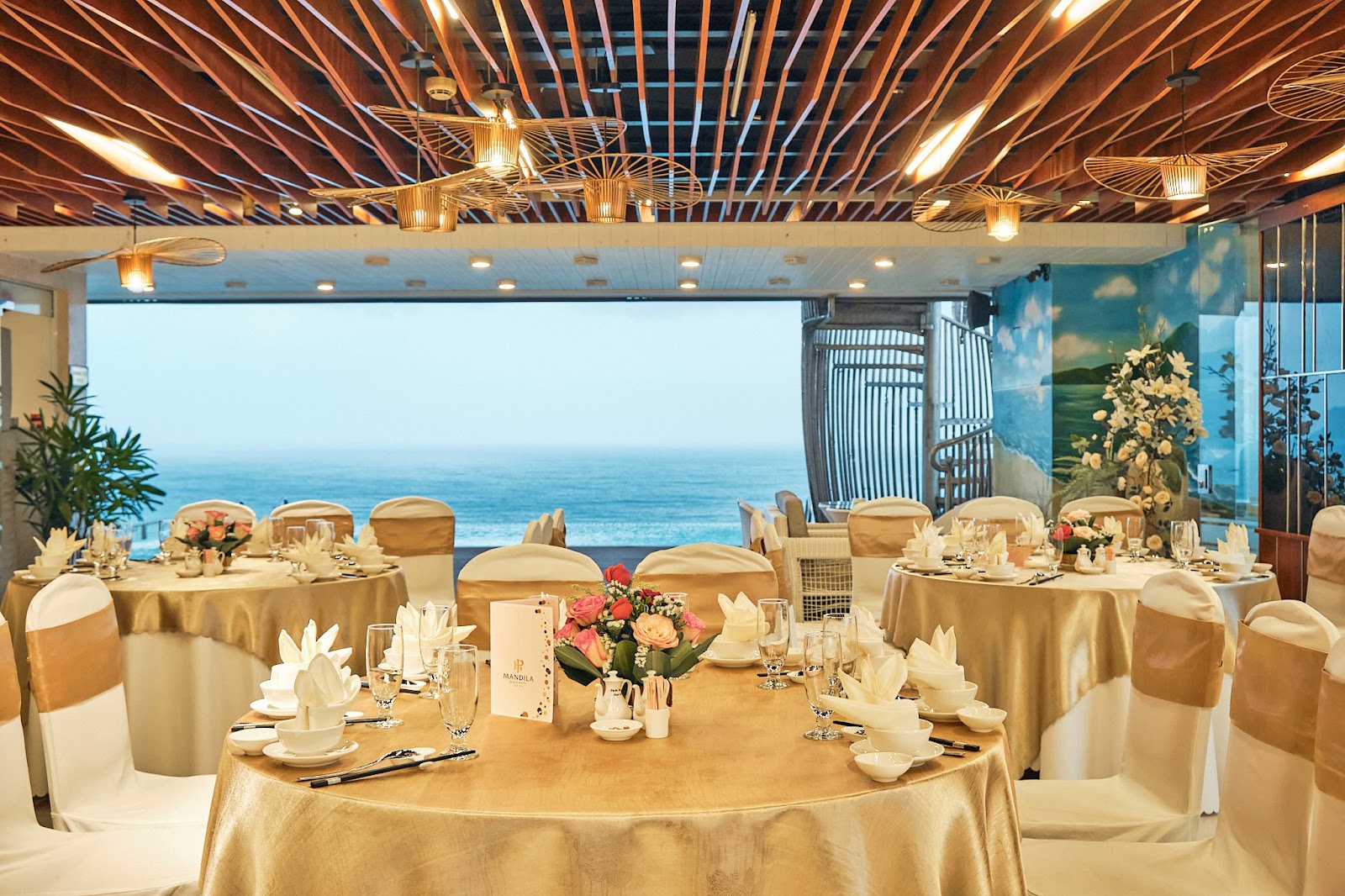 Sea view at Halo Bar
The beautiful and artistic design of the restaurant's interior combines with other subtle elements such as the view and the fusion cuisine to create a warm, romantic, and peaceful atmosphere.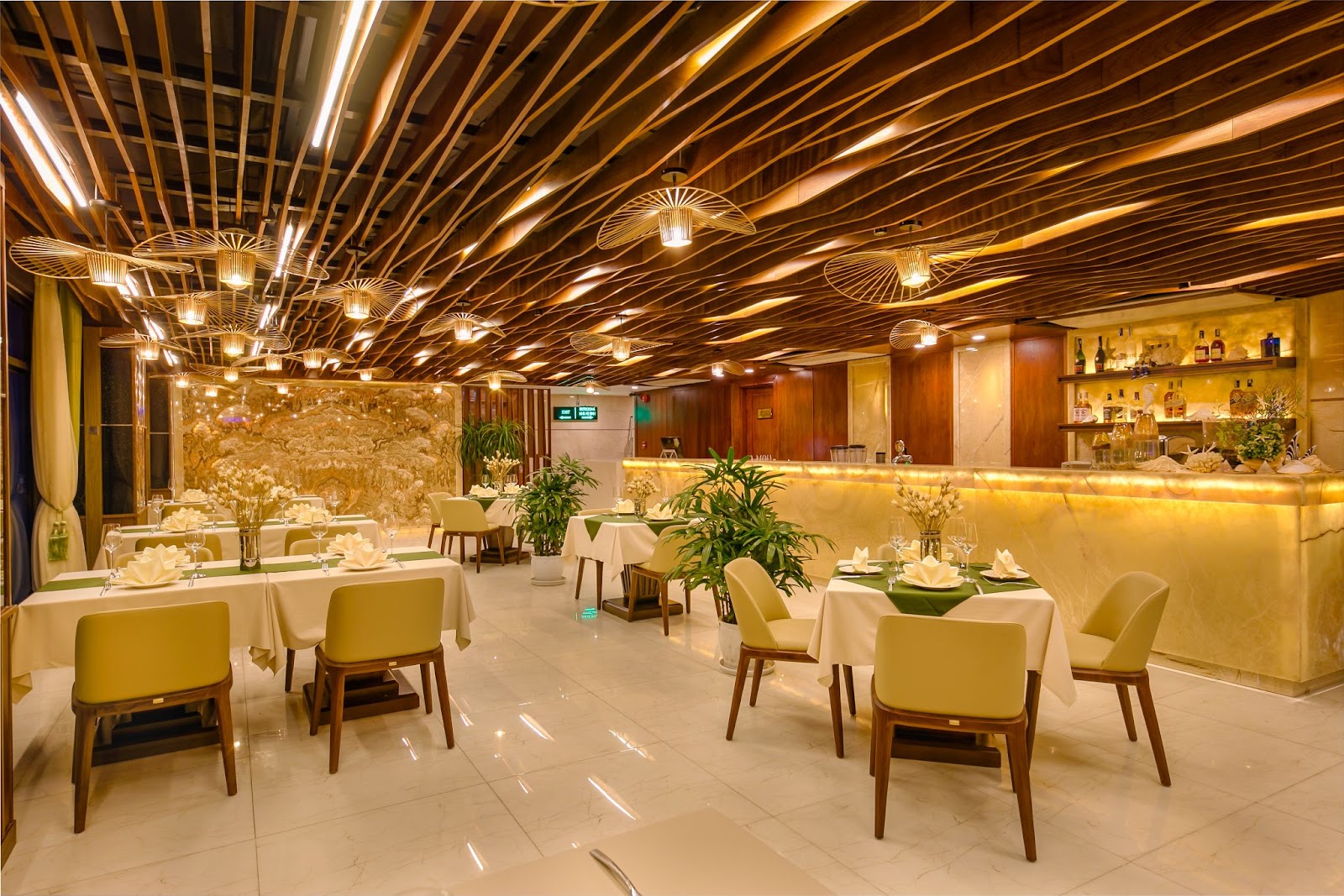 Halo Bar's interior design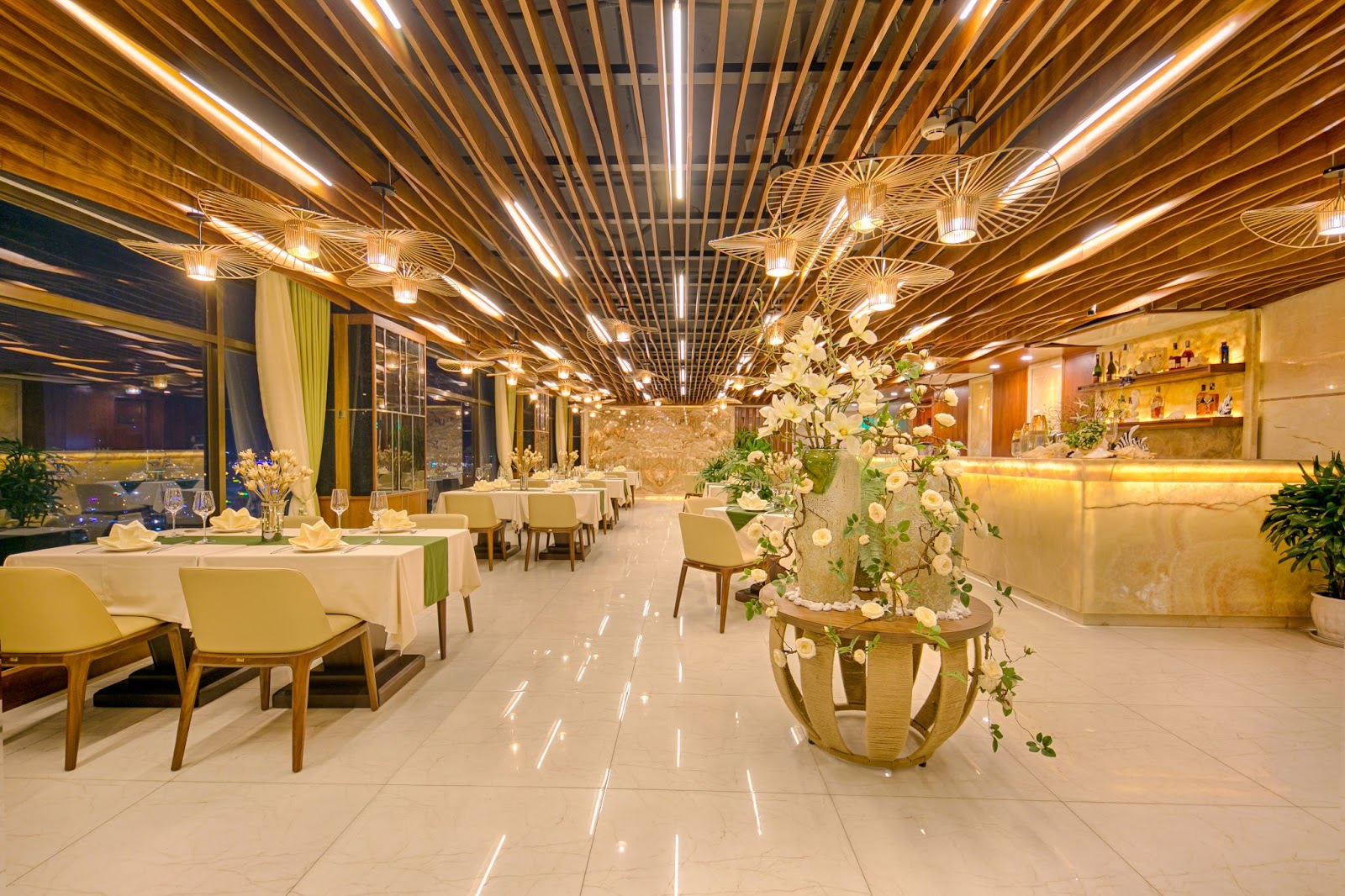 Halo Bar's interior design
Business hours:

8 am to 10 pm daily

Locate:

19th floor
Mandila Beach Hotel has located just a 4-minute walk from the rustic Junkie Beach (belonging to My Khe Beach), making it easy for customers to enjoy the gentle and soothing sea breeze at a closer distance, instead of just watching the sea at a restaurant. This also brings convenience to diners when they have the opportunity to walk in the quiet space after a great meal at the restaurant.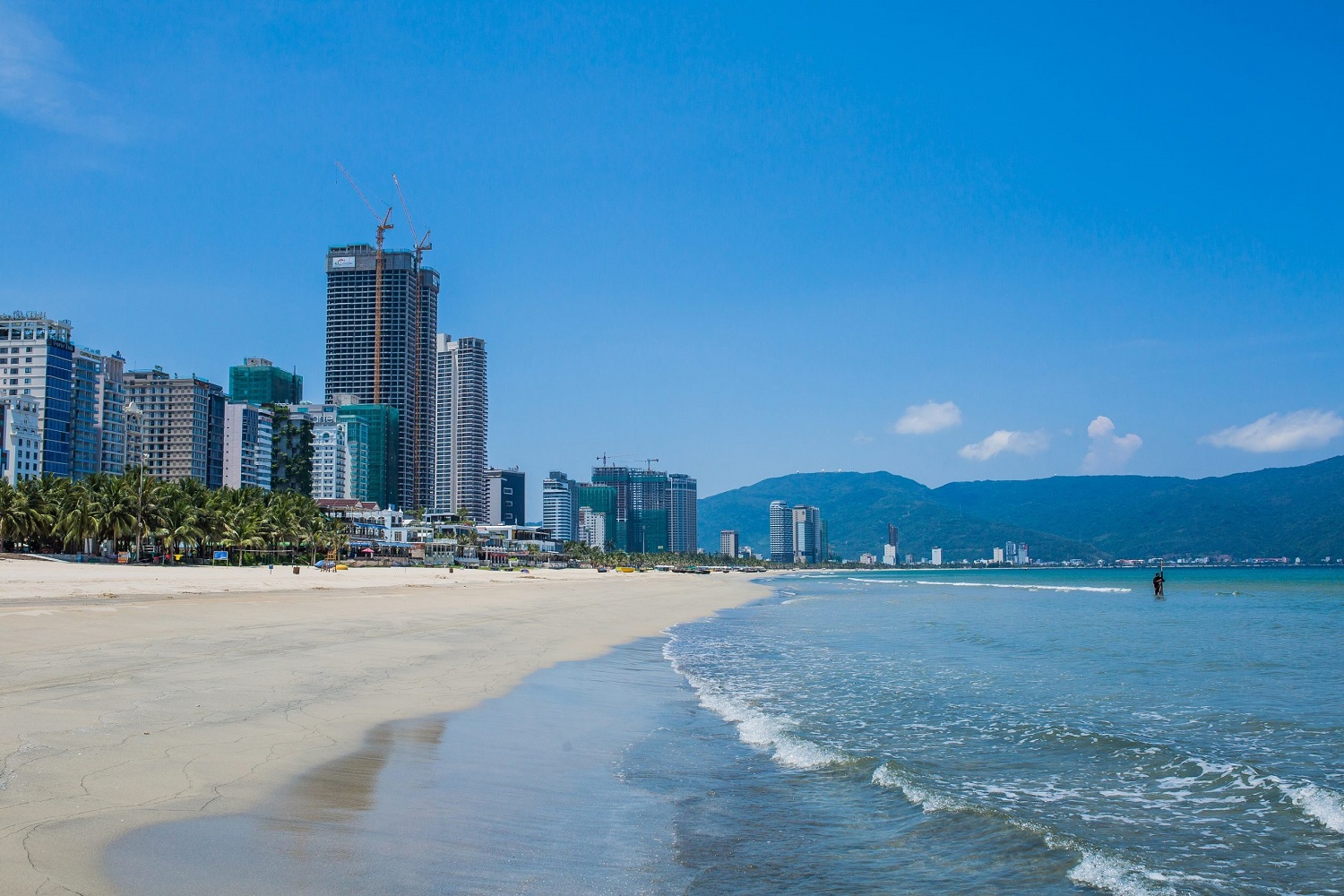 Beautiful view of the sea Junkie Beach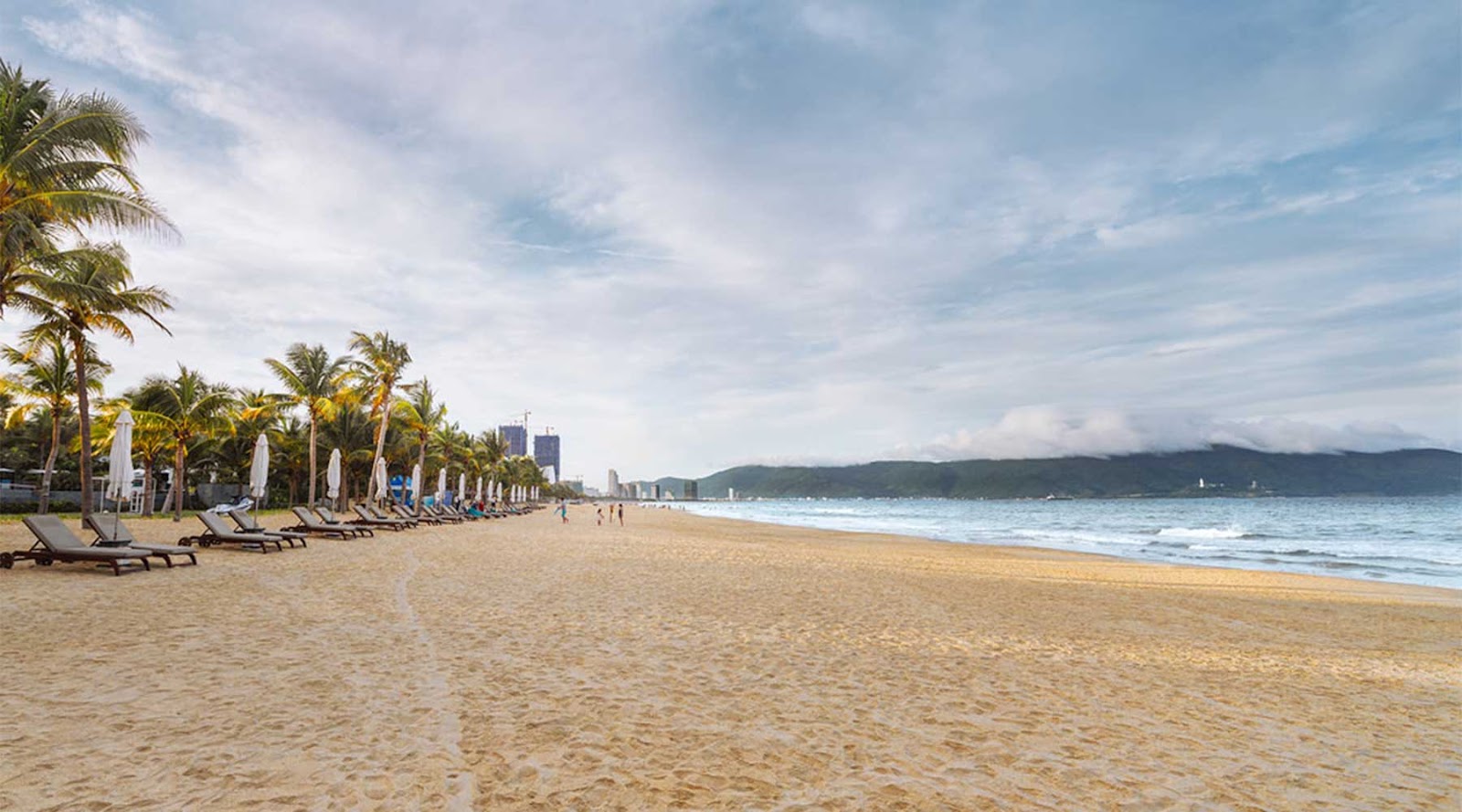 Beautiful view of the sea Junkie Beach
While walking along this peaceful beach, you can participate in fun beach activities, and enjoy the vibrant atmosphere of summer in Da Nang. Plus, you can enjoy a great meal at Mandila Beach Hotel to experience more memorable moments. If you're lucky, you can see small crabs struggling on the beach due to the high tide
II. Open the door to enter the culinary paradise with Mandila Beach Hotel
1. Mandila Beach Hotel
Mandila Beach Hotel is located on Vo Nguyen Giap Street, allowing customers to admire My Khe Beach with its majestic beauty. The hotel was built in 2017 with modern and contemporary design and architecture, guaranteed to please all lovers of elegance and nobility. With a total of 130 rooms and 2 luxury apartments, Mandila Beach Hotel is committed to giving tourists the ultimate experience of comfort and luxury.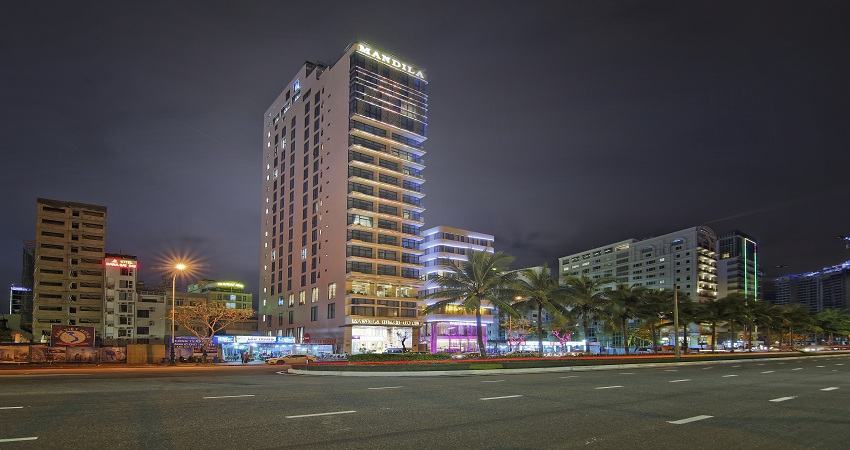 Mandila Beach Hotel.
2. Diverse Cuisine Menu In Restaurant With Sea View
Restaurants on Vo Nguyen Street usually specialize in serving seafood or international food. However, Mandila Beach Hotel wants to ensure that its menu is extensive to meet the needs of loyal customers. Guests will have a variety of delicious dining options as follows: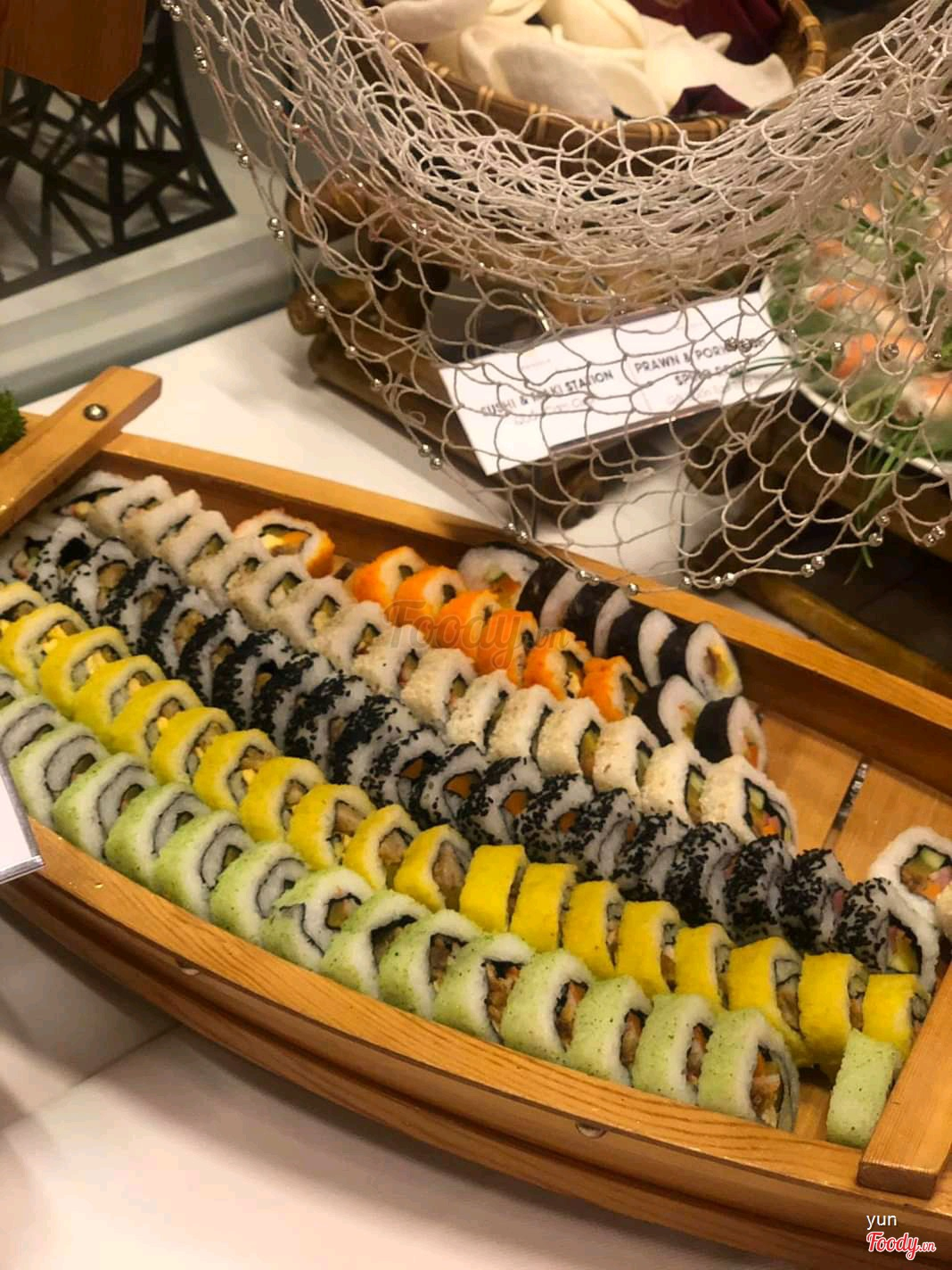 Sushi at Halo Bar
Vietnamese food at Halo Bar
Western dishes such as pizza and steak are served at Halo Bar
III. Enjoy the sea view at the restaurantMandela Beach Hotel
The sea view at Mandila Beach Hotel restaurant is amazing. Its beauty cannot be described. Looking out at the seascape, all worries and pressures in life disappear. A feeling of freedom and peace fills this space. At the same time, along with the gentle and delicate space, visitors can enjoy delicious dishes, giving diners a heavenly experience.
Sky bar at Mandila Beach Hotel.
Sky bar at Mandila Beach Hotel.
A small party at Mandila Beach Hotel's Sky bar.
Come to Mandila Sky Lounge to enjoy a drink after a luxurious and valuable culinary experience. Here, Sky Lounge has an outdoor area that allows customers to enjoy drinks and feel the breath of the sea. The special thing is, Sky Lounge is open to everyone, not just customers.
Royal Spa at Madila Beach Hotel.
Royal Spa at Madila Beach Hotel.
With a combination of diverse herbal treatments and advanced therapeutic technologies, Royal Spa located on the 18th floor is sure to help rejuvenate and re-energize each of its clients. We recommend arriving before dinner to fully enjoy your experience.
Business hours

: 9 am to 9 pm
IV. Reasons to come to Mandila Beach Hotel to experience the sea view restaurant
Mandila Beach Hotel will provide a full range of amenities and perfect services to meet your needs. In particular, the hotel's restaurant overlooking the sea is an experience not to be missed. With a great combination of culinary service and a sea view experience, the restaurant creates an impressive and beautiful space for meals. With a variety of authentic Vietnamese dishes and a wide variety of international dishes, you can enjoy the best dishes while enjoying the beautiful sea view.
Mandila Beach Hotel also offers many recreational and leisure activities in this area, and you can enjoy the most comfortable moments. From colorful parties to outdoor fun activities, Mandila Beach Hotels Oceanfront restaurant is the perfect place to relax and enjoy memorable moments. The restaurant's location is right on the beautiful beach of Da Nang, allowing customers to see and enjoy the romantic seascape, promising to bring visitors the best experience.
In summary, coming to Mandila Beach Hotel to experience the sea view restaurant is a great choice for those who want to enjoy relaxing and entertaining moments with family and friends. With a combination of excellent service, beautiful scenery, and diverse recreational activities, Mandila Beach Hotel will be the ideal place for guests to enjoy period his break.
V. Reservation methods at Mandila Beach Hotel
1. Booking through Booking
2. Book through the official fan page of Mandila Beach Hotel
3. Booking via Facebook
𝐌𝐀𝐍𝐃𝐈𝐋𝐀 𝐁𝐄𝐀𝐂𝐇 𝐇𝐎𝐓𝐄𝐋 𝐃𝐀𝐍𝐀𝐍𝐆 – 𝐓𝐇𝐄 𝐍𝐄𝐖 𝐁𝐑𝐄𝐄𝐙𝐄 𝐎𝐅 𝐒𝐏𝐋𝐄𝐍𝐃𝐈𝐃 𝐌𝐘 𝐊𝐇𝐄 𝐁𝐄𝐀𝐂𝐇
Add: 218 Võ Nguyên Giáp, Phước Mỹ, Sơn Giá, Đà Nẵng
Website: https://mandilabeachhotel.com/
Fanpage: https://www.facebook.com/mandilabeachhotel
Tel: +84 236 7306 6666
Email: info@mandilabeachhotel.com