Da Nang, a colorful and attractive coastal city, is one of the most popular destinations in Vietnam. With clean white beaches, beautiful pagodas, and historical museums, Da Nang is a perfect destination for a short trip. In this article, Mandila Beach Hotel will introduce you to a Danang itinerary for 3 days and 2 nights to help you enjoy the best vacation.
I. Experience choosing hotels for a trip to Danang 3 days 2 nights
1. Nice view location, close to the center, near the sea
Mandila Beach Hotel in Da Nang is one of the hotels with the perfect location. Located near the city center, you will have easy access to tourist attractions, shopping, and entertainment in the center. Above all, Mandila has a "million-dollar" view that embraces the landscape of My Khe beach, just a few steps away from the sea. You can swim with your family to watch the sunset or join in fishing with the people here.
The hotel's location also gives you easy access to the city's popular tourist attractions, such as Linh Ung Pagoda, Dragon Bridge, and Asia Park. It's also not difficult to find Da Nang's specialty dishes from the surrounding restaurants.
All these advantages combined, the location of Mandila Beach Hotel is a perfect choice for those who are looking for a great stay in Da Nang.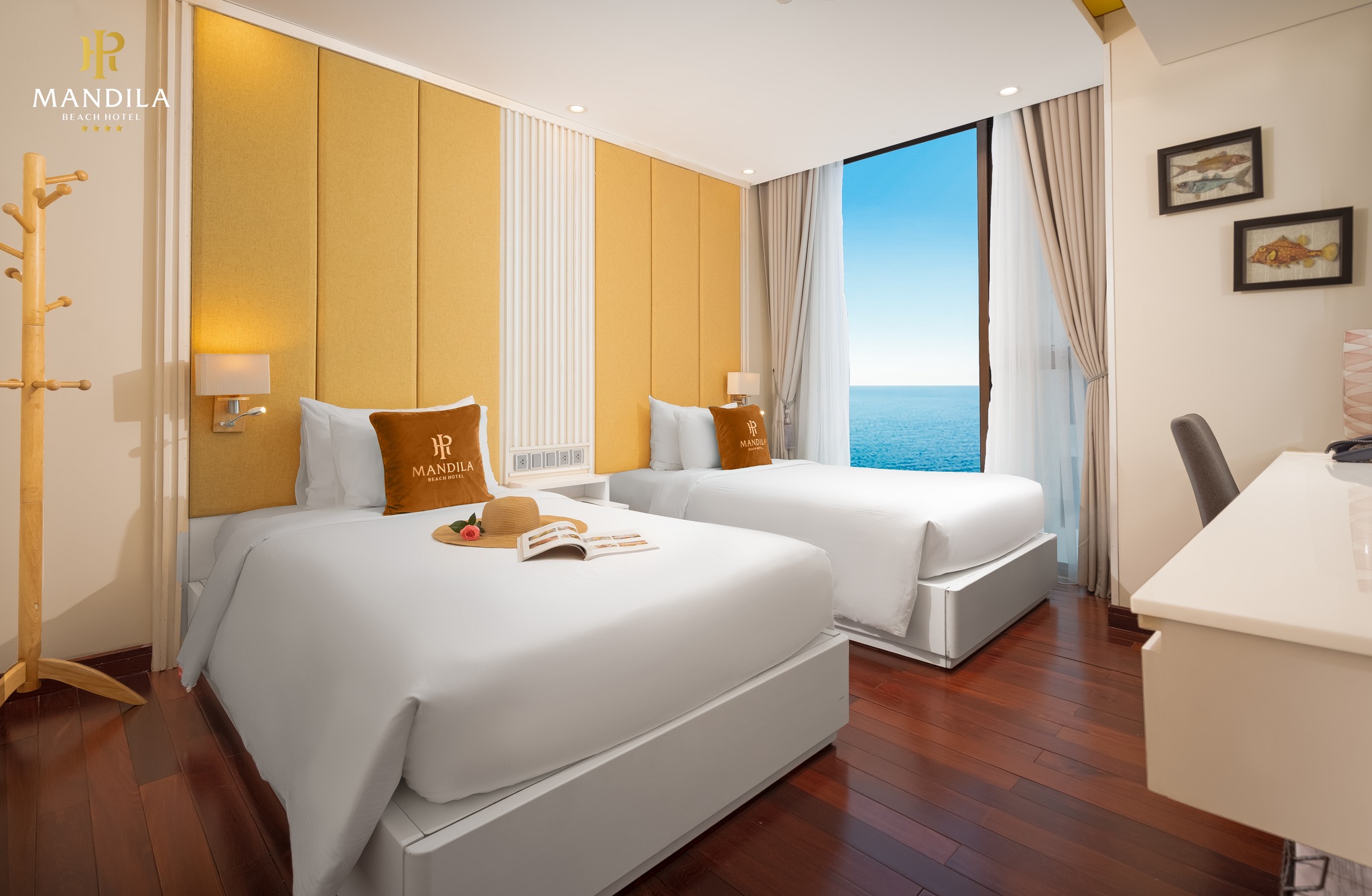 2. Premium facilities and services
With a 4-star standard, Mandila Beach Hotel offers guests a lot of high-class service experiences. At Wooden House restaurant, which specializes in serving a diverse buffet of cuisines from U to Asia, you can also book a table for 2 with a romantic setting right at the sea view dining table.
You also cannot miss the opportunity to live virtually with the infinity pool here. Then enjoy cool cocktails and mocktails with your loved ones at Lobby Bar.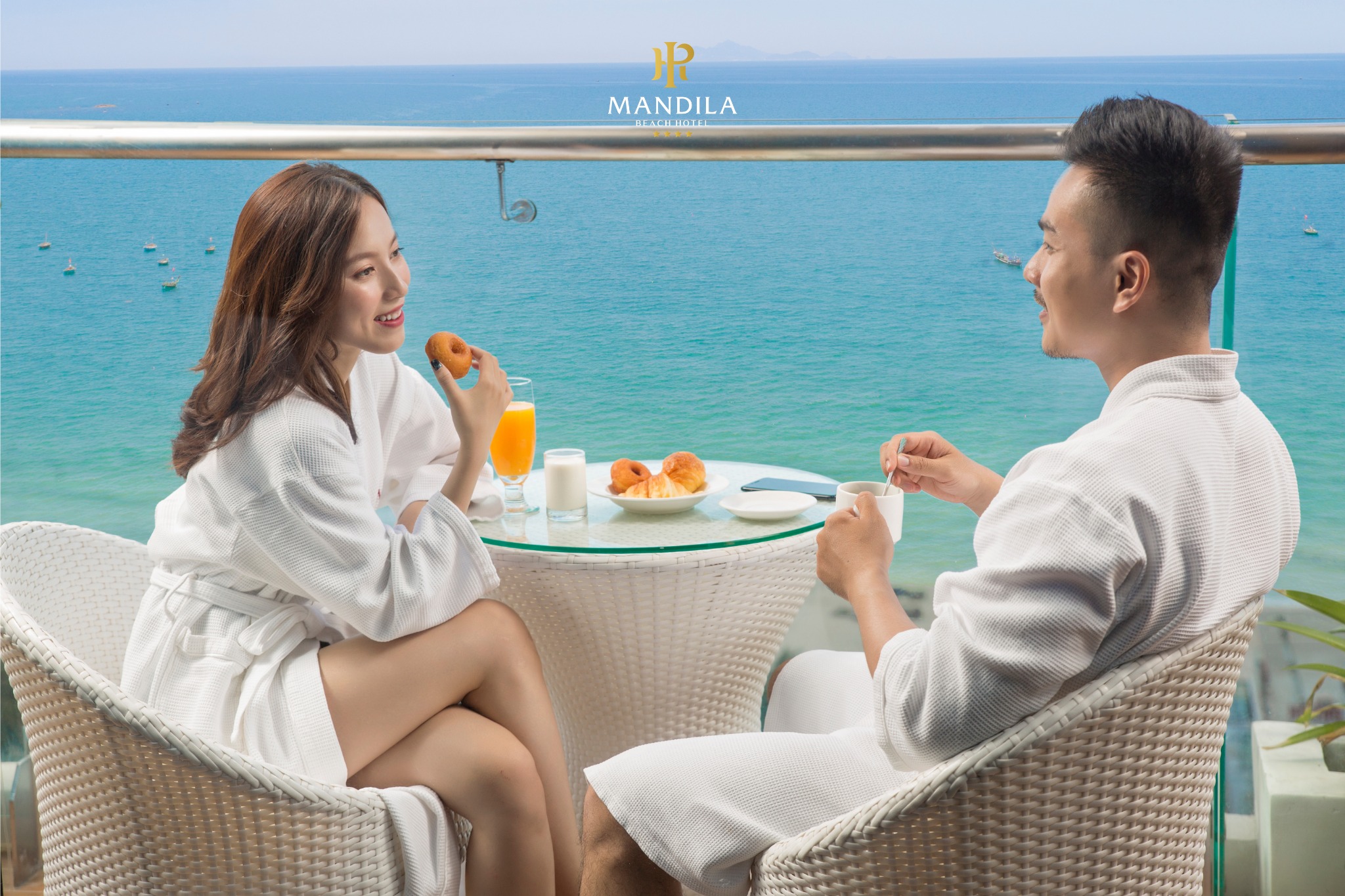 3. Reviews and bookings
When traveling, you often book rooms based on pictures. However, look at the reviews and the number of bookings to know more about whether the quality and service that the hotel provides are like the picture or not.
Mandila Beach Hotel in Da Nang is highly appreciated by customers for its beauty, amenities, and high-quality service. With the advantage of sea view and proximity to the city center, making their trip easier and more convenient.
The number of bookings at Mandila Beach Hotel is very high, especially during the summer and holidays. To ensure that you can experience your perfect trip, book early to be able to choose a room that suits you best.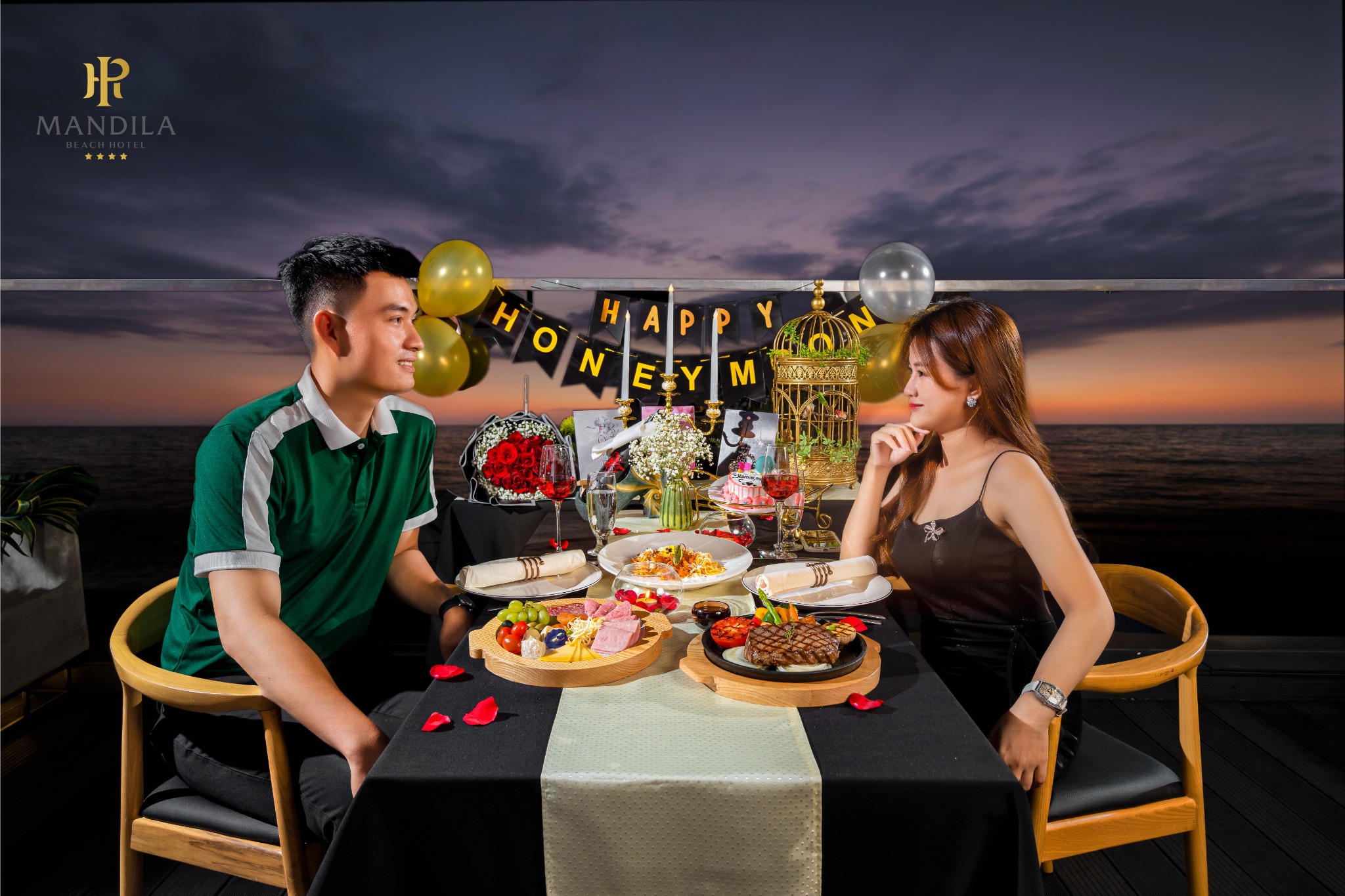 II. What to eat in Da Nang?
1.Traditional food
In Da Nang, several addresses are selling famous traditional dishes such as:
1.1. Nam Hien's dancing shrimp pancakes
Address: No. 46 Phan Thanh, Thanh Khe, Da Nang city

Opening hours: 10:00 to 21:30

Price: 30,000 VND – 50,000 VND
The taste of Nam Hien's Jumping Shrimp Pancakes is a delicate blend. The sweetness from thin and spongy pancakes, the crispy taste of fried shrimp, and the mild taste of vegetables add more flavor to the dish. When eaten with peanut sauce, Bui Bui brings a perfect taste with a combination of sweetness, crunch, and rich nutrition.
If you have been to Da Nang, try this dish right away. Shrimp pancake is a very attractive dish with diverse and distinctive flavors of Vietnam, creating a great dining experience for everyone.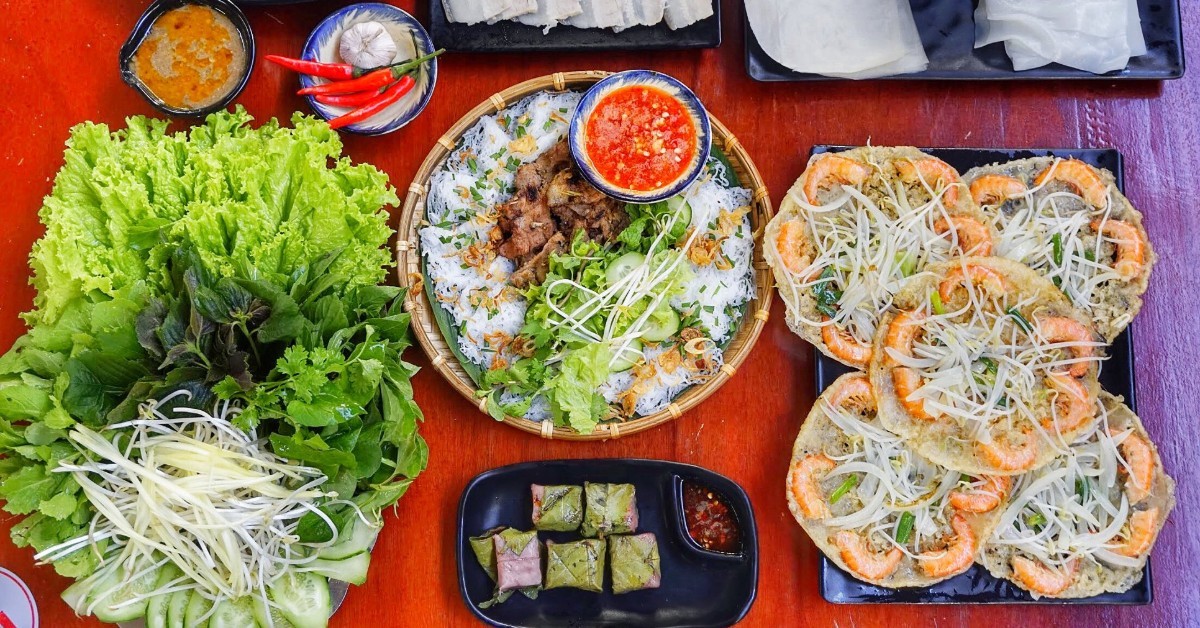 1.2. Ba Huong pork roll rice paper
Currently, the shop has 3 branches in Da Nang city:
35/2 Ham Nghi, Thanh Khe, Da Nang

364 2/9 street, Hai Chau, Da Nang

45 Ngo Gia Tu, Hai Chau, Da Nang

Price will fluctuate: 80,000 VND – 120,000 VND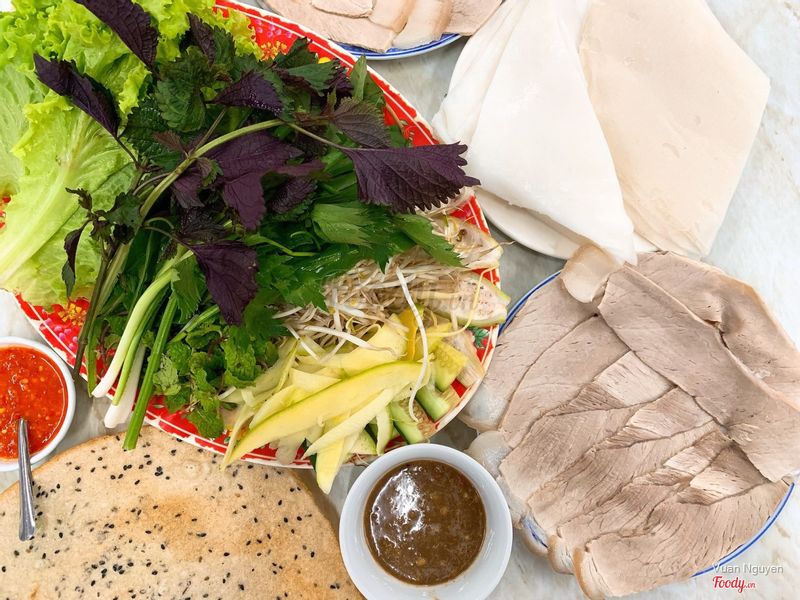 1.3. Bun mam restaurant in Tran Ke Xuong
Address: No. 23/14 Tran Ke Xuong, Hai Chau, Da Nang city

Opening hours: 06:20 to 22:00

Price: 30,000 VND – 40,000 VND
Bun mam Da Nang is a traditional dish of Central Vietnam and is considered one of the most famous dishes of Da Nang. The taste of Da Nang noodle soup is extremely attractive. This shop has its very own way of making fish sauce, with only basic ingredients such as ginger, garlic, onions, sugar, and lemon juice that make many people fall in love. The taste is both Salty and sweet, adding a pinch of spice at the tip of the tongue, served with pork and seasoning. The plus point is that the restaurant's vegetables are extremely clean, and the staff is enthusiastic.
2. Da Nang Night Market
The night market is not only a place for tourists to visit and shop. But here people can participate in many entertaining games such as throwing cans, throwing darts,… Let's take a look at some new dishes that you can enjoy at the night market such as delicious grilled meat with cheese., fried chicken wings with honey sauce, unique bread rolls, hot dog, deep-fried squid ink, vermicelli… spoiled for choice. Here is a list of Da Nang night markets that you should visit once:
2.1 Son Tra Night Market
Address: Mai Hac De

Time: Open at 17:00

Food stalls in the market are cozy and vibrant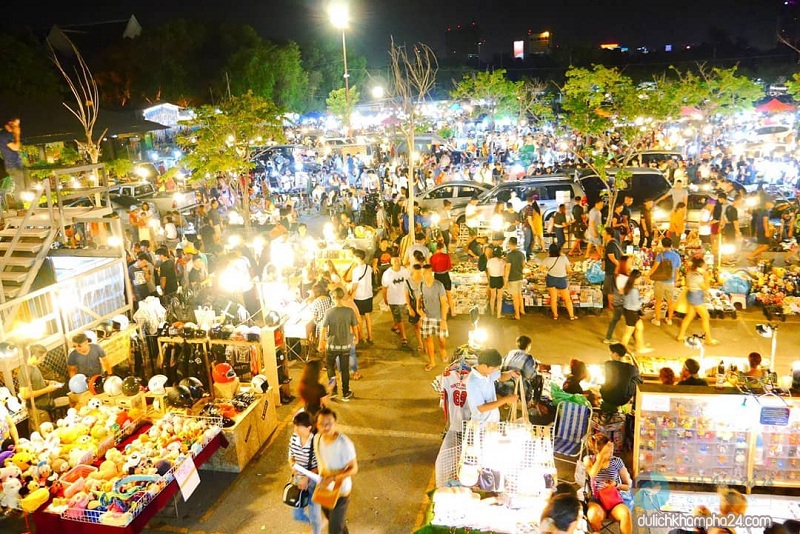 2.2. Helio Night Market (Helio Night Food Court)
Address: September 2nd Street
Time: Open at 17:30
The large market has food stalls and often has music shows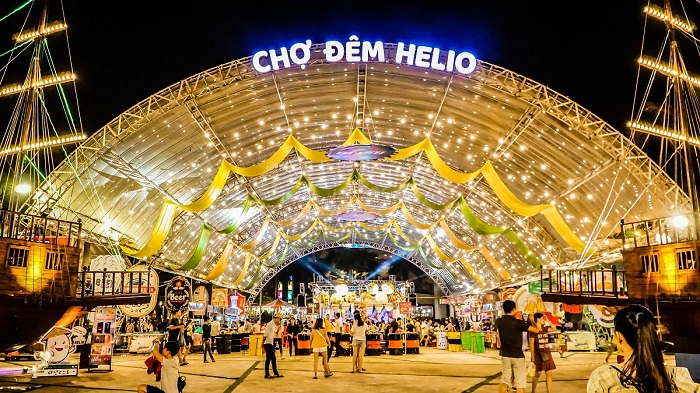 III. Attractions in Da Nang
Da Nang is a city with many attractive tourist attractions. You can visit the following places:
Linh Ung Pagoda: Linh Ung Pagoda is a great place for those who want to learn about the culture and religion of Vietnam, and is also a great place to enjoy the cultural and architectural identity of the city.

My Khe Beach: is one of the most beautiful beaches in Da Nang with clear blue water and fine white sand. You can swim in the sea in the morning and afternoon.

Hai Van Pass: From Hai Van Pass you can see the entire city scene

Apia Park: The place with the largest sun wheel in Southeast Asia, you can come here with your family to relax with many unique games.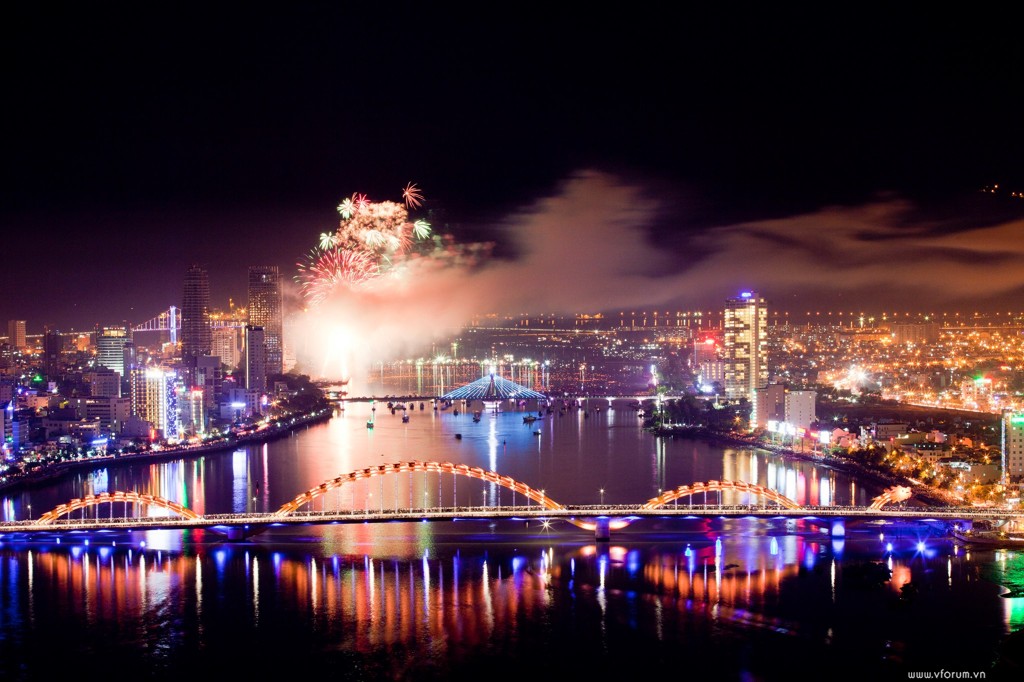 IV. Summary of 3 days 2 nights tour in Da Nang
To have the best tour in Da Nang, I recommend you do the following:
Prepare well: Be well prepared in terms of clothes, shoes, etc. so you can visit any place you want.

Book hotels in advance for your trip to get the best rates

Visiting tourist attractions: Da Nang has many beautiful tourist attractions, from Linh

Ung Pagoda to Hai Dang, from Dragon Bridge to My Khe Beach. Prepare a list of places you want to visit and set your schedule.
Experience Danang cuisine: Da Nang has many eateries with typical regional dishes. Try some dishes like fried rice, pancakes, rice paper, etc.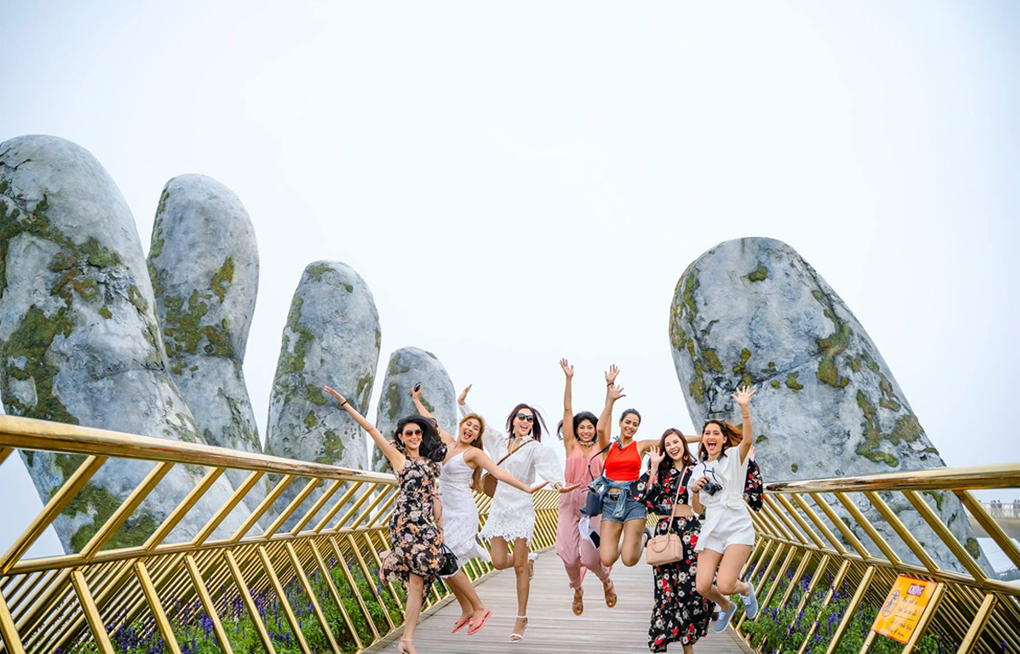 Above is the 3 days 2 nights danang travel experience that Mandila would like to suggest to you. Wish you a happy trip, and many memories.