Da Nang not only makes visitors fascinated by the fun places during the day but at night, when the city lights up, it is equally attractive. Walking to Da Nang beach at night is a unique and wonderful experience. Discover the article below with Mandila Beach Hotel!
I. Da Nang beach at night is magical
The beaches in Da Nang at night bring you a fresh and quiet atmosphere. Along with the gentle sound of waves and cool breeze, thousands of twinkling stars in the sky will follow you along the beach, creating a fanciful and peaceful scene indescribable. This is a great time for you to temporarily put aside all your worries and worries, to drop yourself into the calm and relaxing space of Da Nang's night sea. If you have the opportunity to come to the beautiful city of Da Nang, do not miss the fanciful sight of Da Nang beach at night.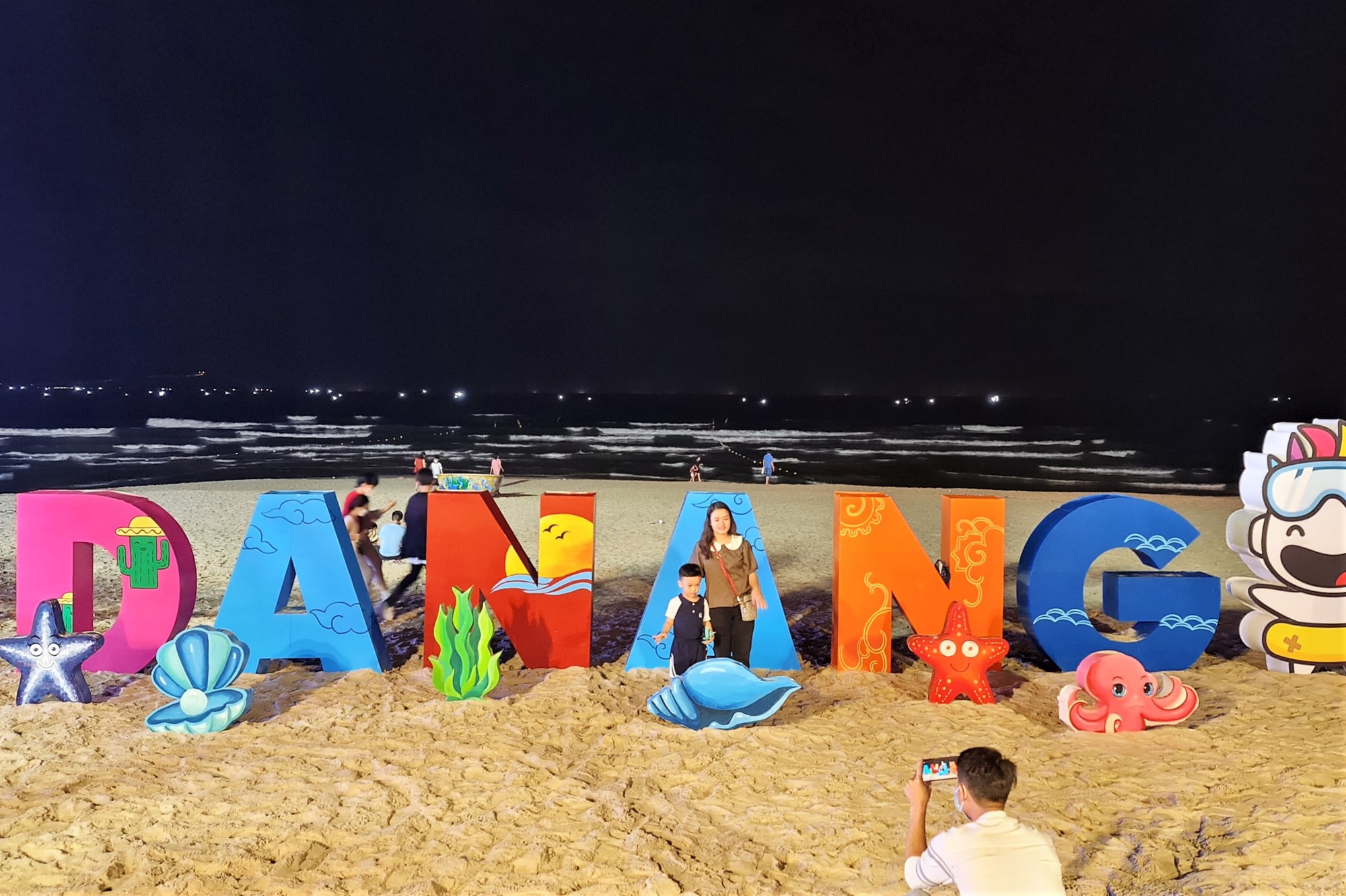 Danang beach at night
In addition, Da Nang also launched a new tourism product activity that is "My An Night Beach – My An Night Beach" to serve visitors. Here, you can enjoy many attractive services such as check-in area on the beach, an outdoor stage for events and folk games. Some beach services are available 24 hours a day, while others operate until around 2-3 am, depending on the needs of tourists and the community. Service activities at the beach at night are growing with many attractive options in terms of quantity and quality.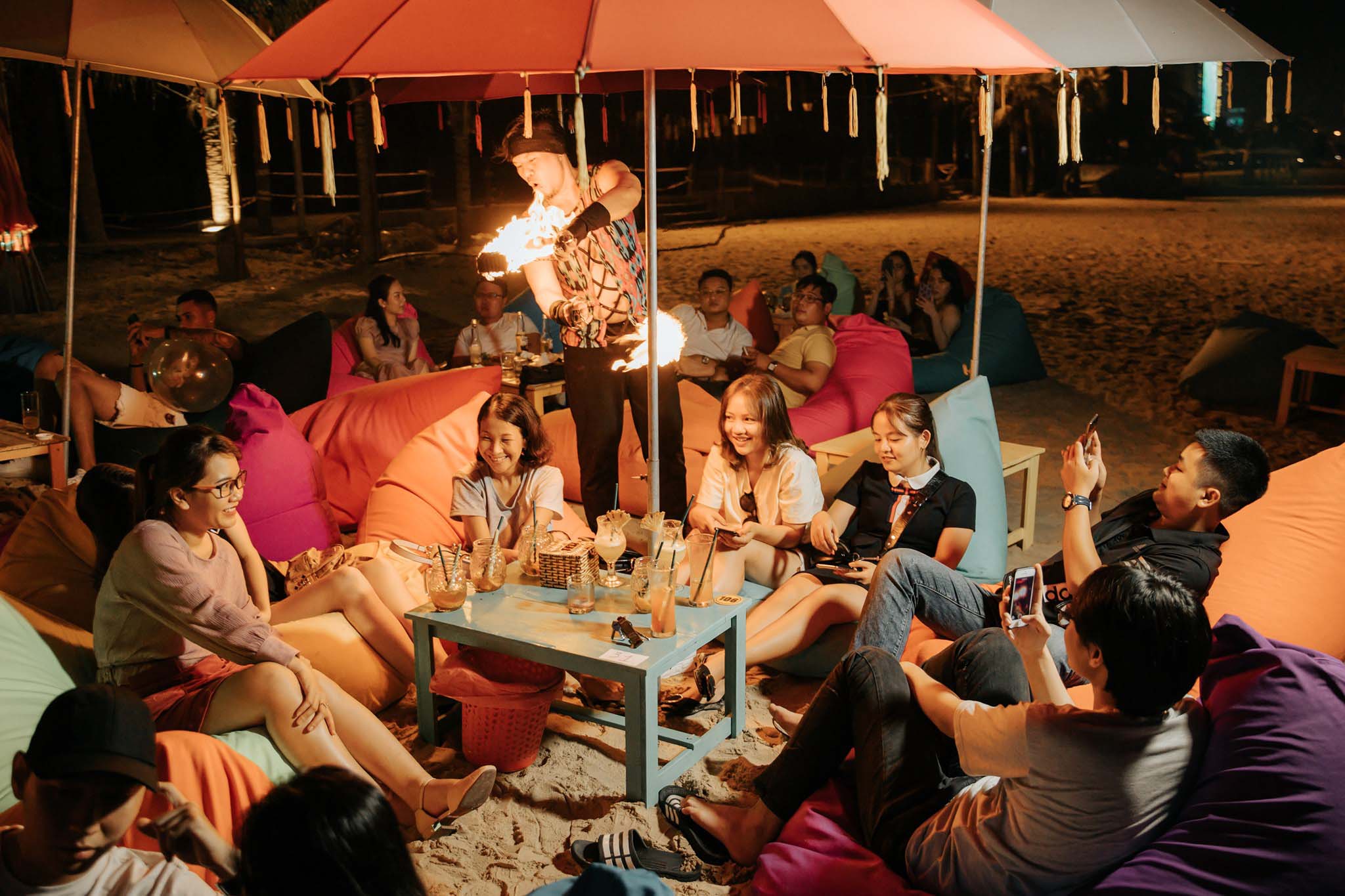 Exciting sea activities at night
II. Camping sites near the sea in Da Nang
To enjoy the magical sea view at night, camping will be a suitable activity for you and your loved ones. Choosing the right location, with beautiful scenery and fresh air will make camping more enjoyable.
1. Green Lake
Green Lake is located in the Son Tra peninsula area, near Linh Ung Pagoda. As the name suggests, this place has clear blue water. Most visitors come here because of the impression of green space, wild beauty and natural scenery. This must be an ideal place for groups of friends or families to camp here. Especially on weekends or holidays, this place is much more vibrant.
When you arrive at Green Lake, you can enjoy simple pleasures by walking in harmony with the fresh air of heaven and earth. The lake water is blue thanks to the natural water on Son Tra mountain flowing down. Therefore, many young people only come to Green Lake to experience the feeling of being immersed in nature and watching the clear water. It also helps to relax the soul, bringing a sense of peace and comfort after a hard working day.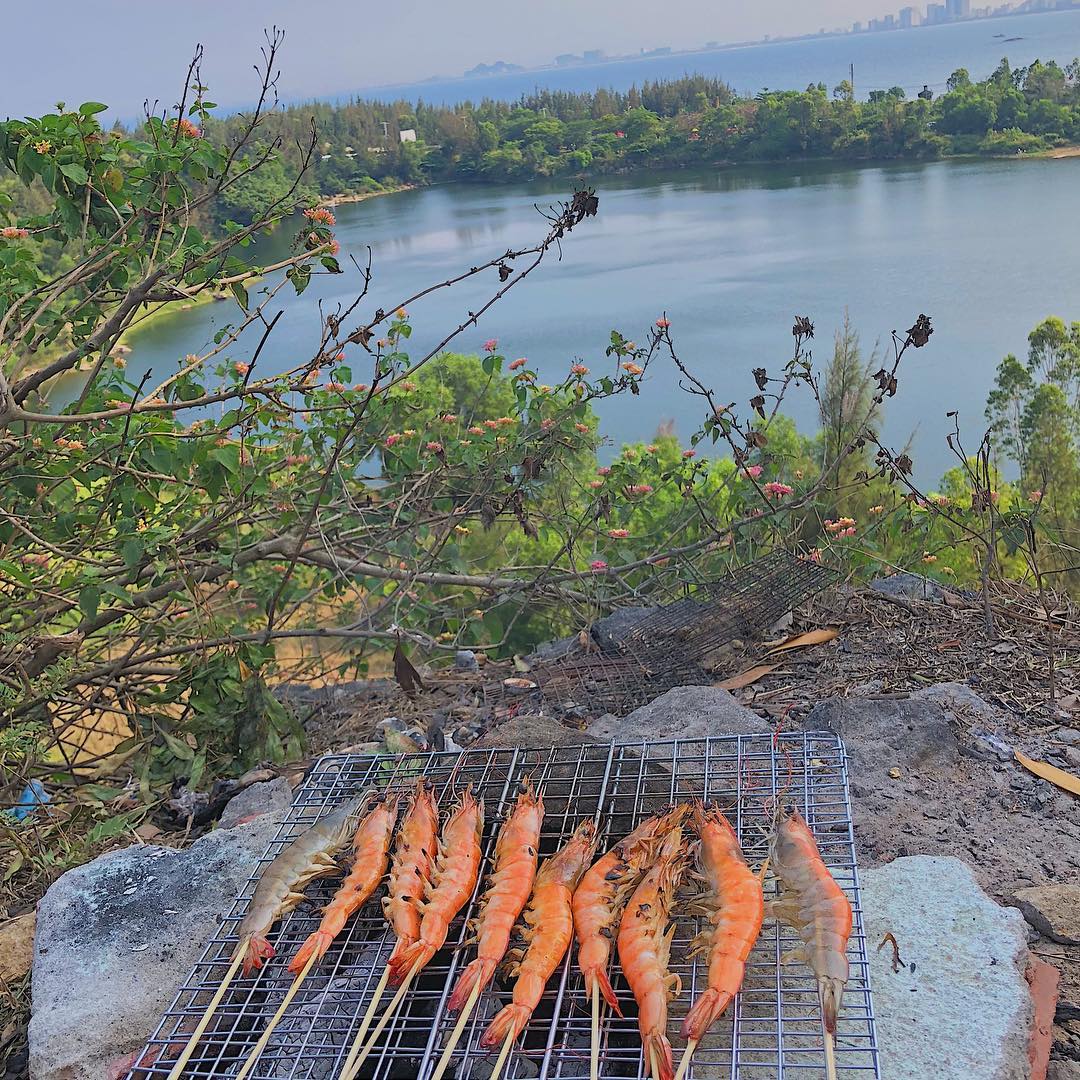 Green lake
2. Mui Nghe 
Mui Nghe is located in the east of Son Tra peninsula, this is a quite wild but extremely beautiful destination of Da Nang city. This place is known as one of the most beautiful and ideal sunrise spots in Da Nang. Join your friends or relatives to camp here so that you can admire the peaceful night and watch the first rays of sunlight appear in the ocean. When the sun begins to rise, you will witness a poetic scene with the sparkling sea surface, the color changing according to the sunlight. In addition, when camping at Mui Nghe, you are completely immersed in the clear blue water and snorkeling to see the coral. Besides, you can ask to follow the fisherman's fishing boat to participate in fishing activities to mingle with the vast ocean space and release your soul into poetic nature.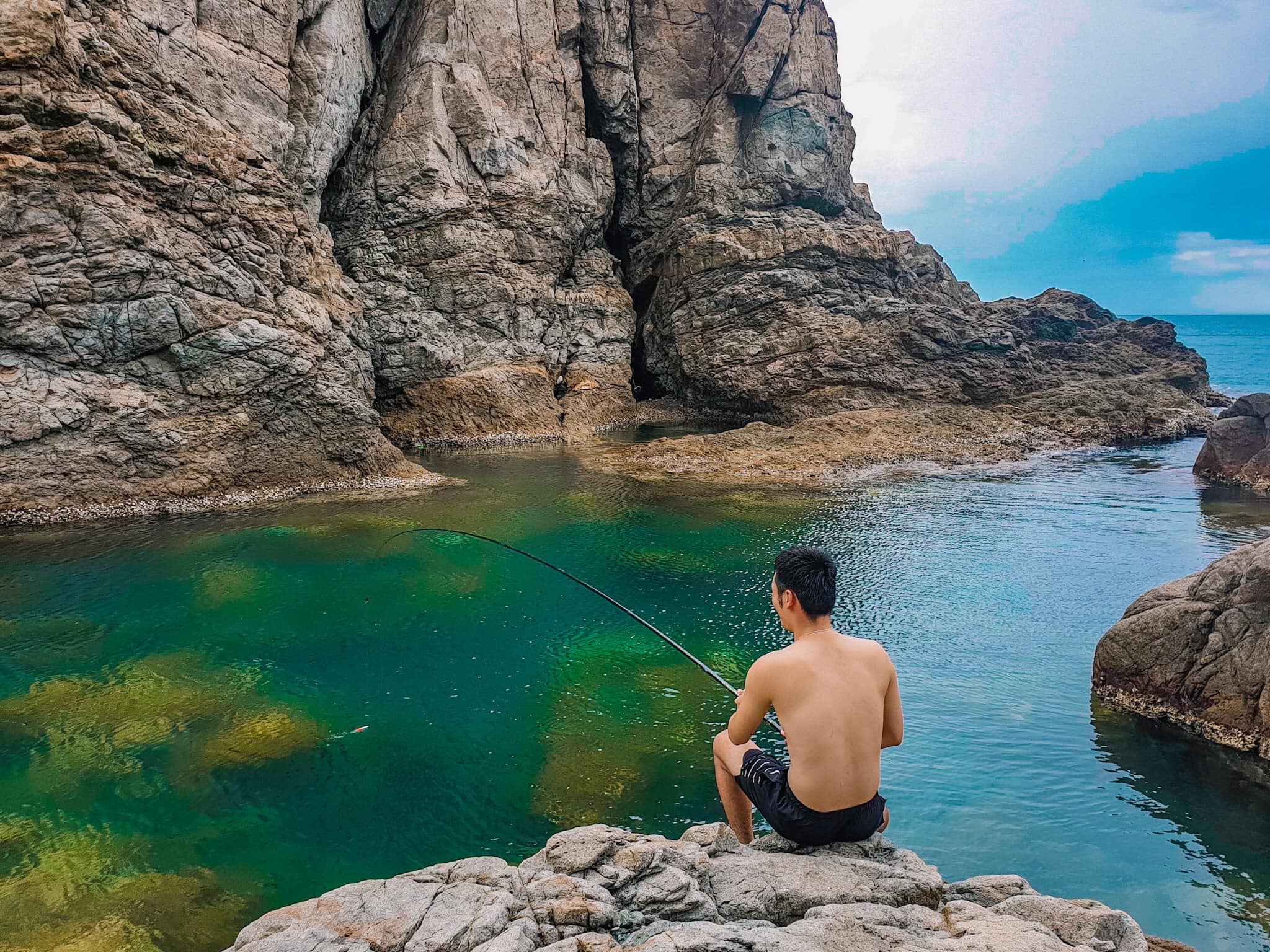 Mui Nghe
3. Golden sand
This is one of the great places to watch the Da Nang beach at night. With a location separate from the hustle and bustle of the city, the golden sand beach is an ideal vacation spot for you and your loved ones every weekend. Golden Sand Beach is located on the Son Tra peninsula, near the thousand-year-old banyan tree, the road is quite strange, so you need to use google maps to camp. Here, you can relax with the sound of waves crashing, walk on the pristine beach or drop into the fresh space of nature. This place is favored by nature for its beautiful coastline, smooth white sand strip and charming green trees. You can freely experience interesting games such as ziplines, diving. However, you need to be careful when traveling to Golden Sands beach by motorbike, because the distance traveled is quite small and steep.
Golden sands
4. Obama rock beach
Obama rock beach is a wild rock, located on the Son Tra peninsula. It has a beautiful beach with clear blue water, clean surroundings and fresh air. Obama Rock offers a variety of services to meet the needs of guests, including renting huts to rest, enjoying seafood, renting canoes to play in the sea and snorkeling. The sound of the waves gently patting the shore, in the distance are boats going out to sea, the scenery is peaceful. On the rocks, there are wooden bridges crossing for people to take pictures of 'check-in'. Many families and groups of friends often come here on weekends to relax and enjoy the mellow seascape at night. From the beach you can look towards the city, a shimmering, fanciful scene that makes you remember forever.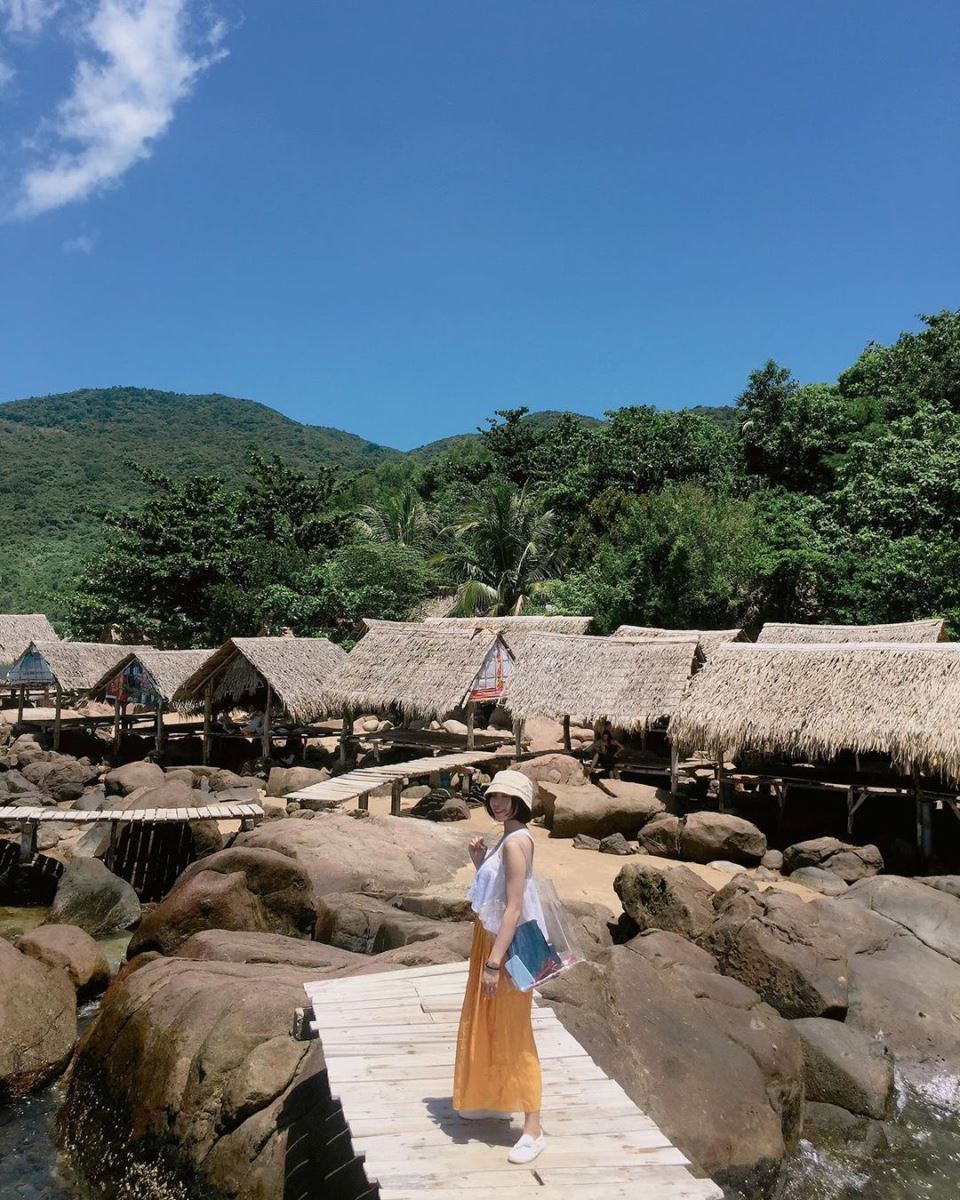 Obama rock
5. Tien Sa Beach
Tien Sa Beach is owned by the Tien Sa tourist area. Located at the end of Yet Kieu Street, Son Tra District and 9km from the city center to the Northeast. The beach is independent and shy, surrounding a large area with mountains, completely isolated from the outside. With the perfect combination of these two factors, Tien Sa becomes like a beautiful, charming muse, making visitors fall in love from the first time they set foot here. When the sun goes down, the Tien Sa sea becomes more peaceful and gentle. This is also a great time for you and your family and friends to camp on the beach and have a barbecue, sing and chat all night, to feel the peaceful and exhilarating space.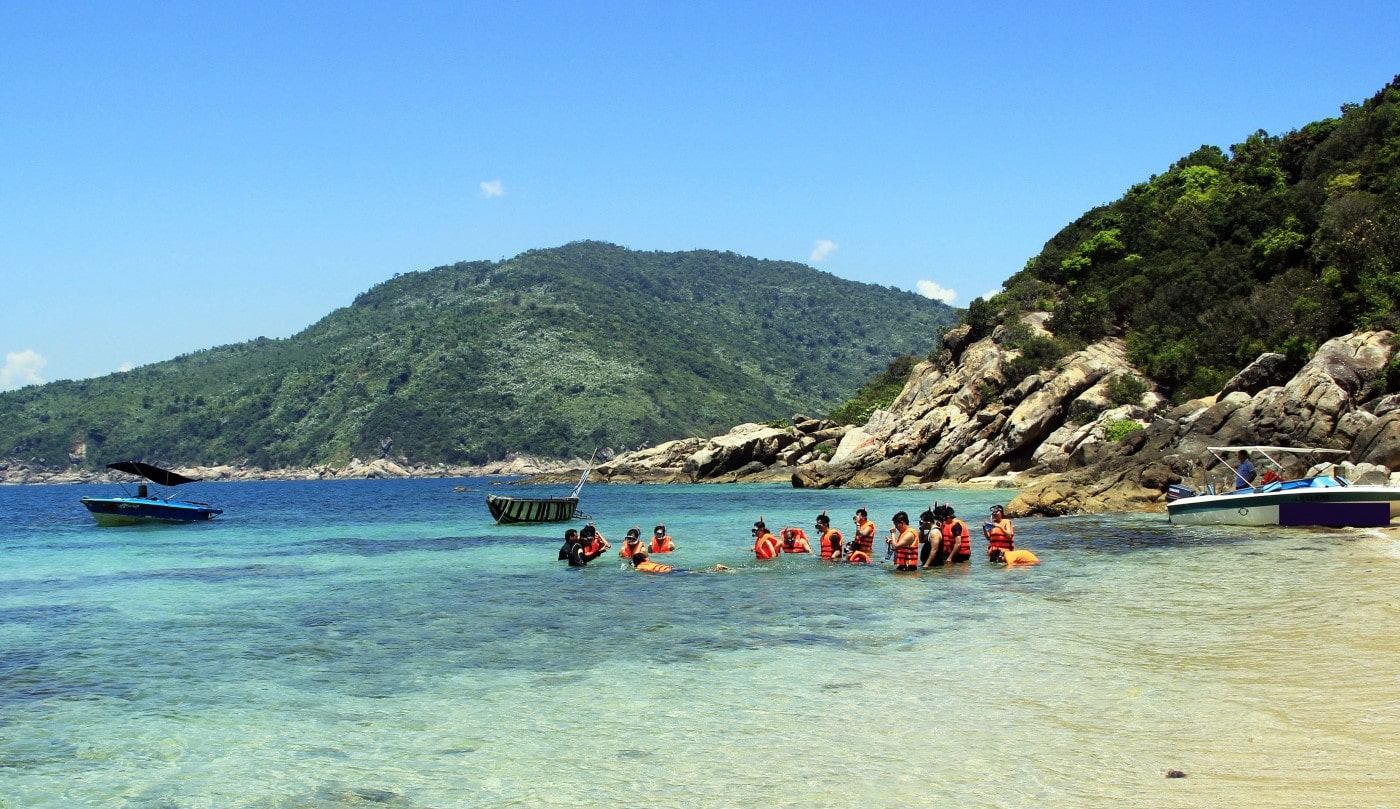 Tien Sa beach
6. Ghenh Bang Campground
One of the beach camping places in Da Nang that are known by many backpackers is Ghenh Bang. This place is about 20 km from the center, located at Bai But on the Son Tra peninsula. You can leave the city, away from the noise and bustle to come here to enjoy the peace. The landscape in Ghenh Bang is very beautiful, the scenery gives you extremely relaxing moments. Many young people and families choose this place to camp and immerse themselves in the poetic natural scenery. Here you can experience exciting fishing activities. Note that bring a fishing rod or, if you don't have one, you can rent it from locals. Explore the beautiful seascape, hear the lapping waves, and fish with your friends. It was a memorable experience when exploring the coastal city of Da Nang.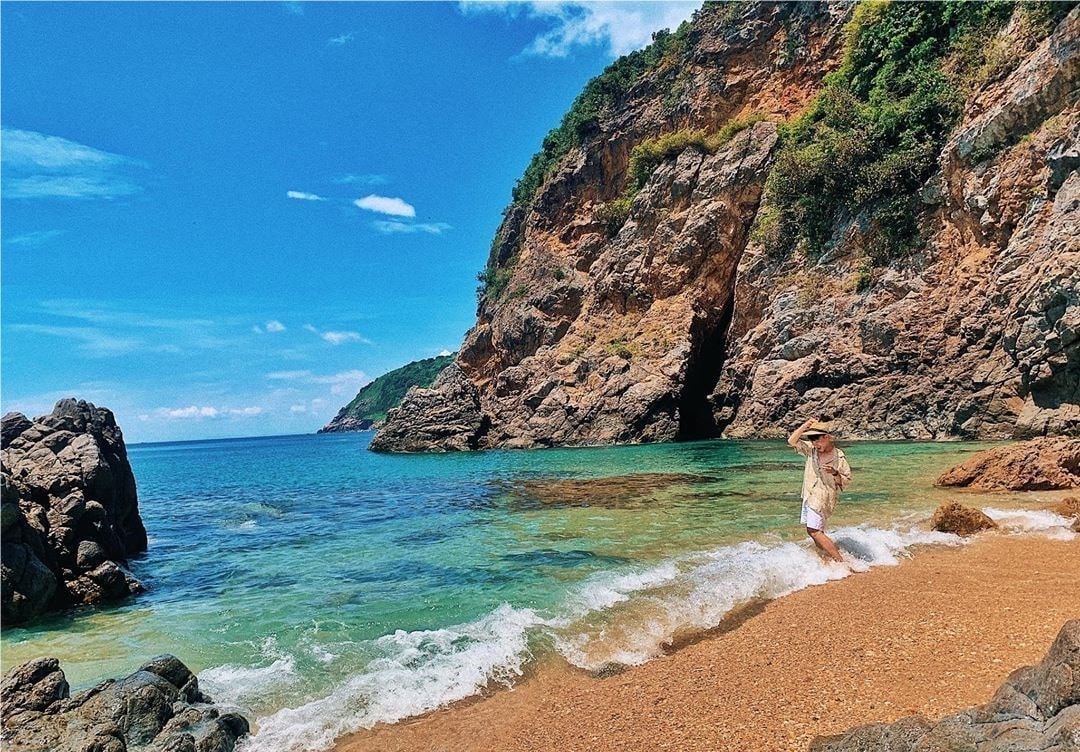 Ghenh Bang Campground
III. Mandila Beach Hotel – Beach Hotels in Da Nang
To enjoy the beautiful seascape of Da Nang at night, it is impossible not to choose a hotel near the sea to facilitate this experience. Mandila Beach Hotel is an extremely affordable getaway close to the sea, sure to make you satisfied. With a favorable geographical position, Mandila Beach Hotel is a great resort choice for those who love to explore the beautiful My Khe coast. Besides, it is only 500m from Dragon Bridge and near a rich and diverse food court. The hotel has a variety of parking facilities and services, convenient for your stay. In addition, with modern, minimalist and sophisticated architectural design, Mandila Beach Hotel offers guests a memorable experience. The hotel has 130 luxury rooms and 02 apartments, most of which have beautiful beach views.
Mandila Beach Hotel
In addition, the hotel also has convenient services to help make your stay more comfortable and quality. The first is the spa service with high-class relaxing treatments. Helps you relax after a day of 'roaming' around the city and recharge for the next day of play. In addition, there is also a gym, so that you can still have a place to stay in shape even if you go out. And indispensable an infinity pool, with beautiful views from My Khe beach and the wonderful Son Tra peninsula. Watching the sunrise here is a wonderful experience when coming to Da Nang.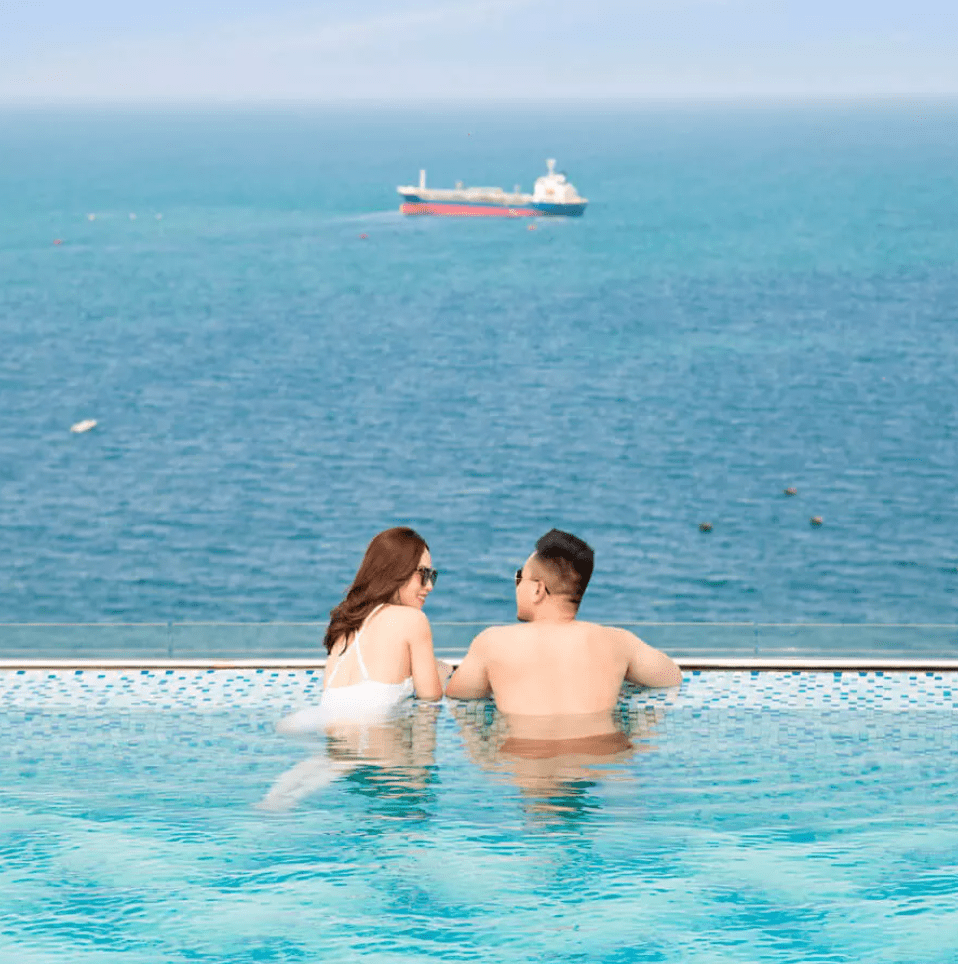 Swimming pool with sea view
IV. Notes when walking on the beach in Da Nang at night
To make the trip more interesting and secure, you need to know the notes when going to the beach at night in Da Nang!
Choice of means of transportation: To enjoy the cool air and admire the Da Nang streetscape at night, it is best to drive a motorbike by yourself. In Da Nang, there are many motorbike rental services with affordable prices, only from 80,000 – 120,000 VND/day. If you want to avoid hassles like finding a place to park or maintain your motorbike, use a taxi service or Grab.

Choose a good time to dress up for the beach: Usually, places to eat on the beach open quite early, to leisurely time you can choose a time frame from 7am – 8pm. Do not forget to experience exciting activities at the sea at night!

Geographical location: You should note that you should check google maps first to avoid being surprised, because Da Nang has nightlife beaches such as My Khe beach and Pham Van Dong beach.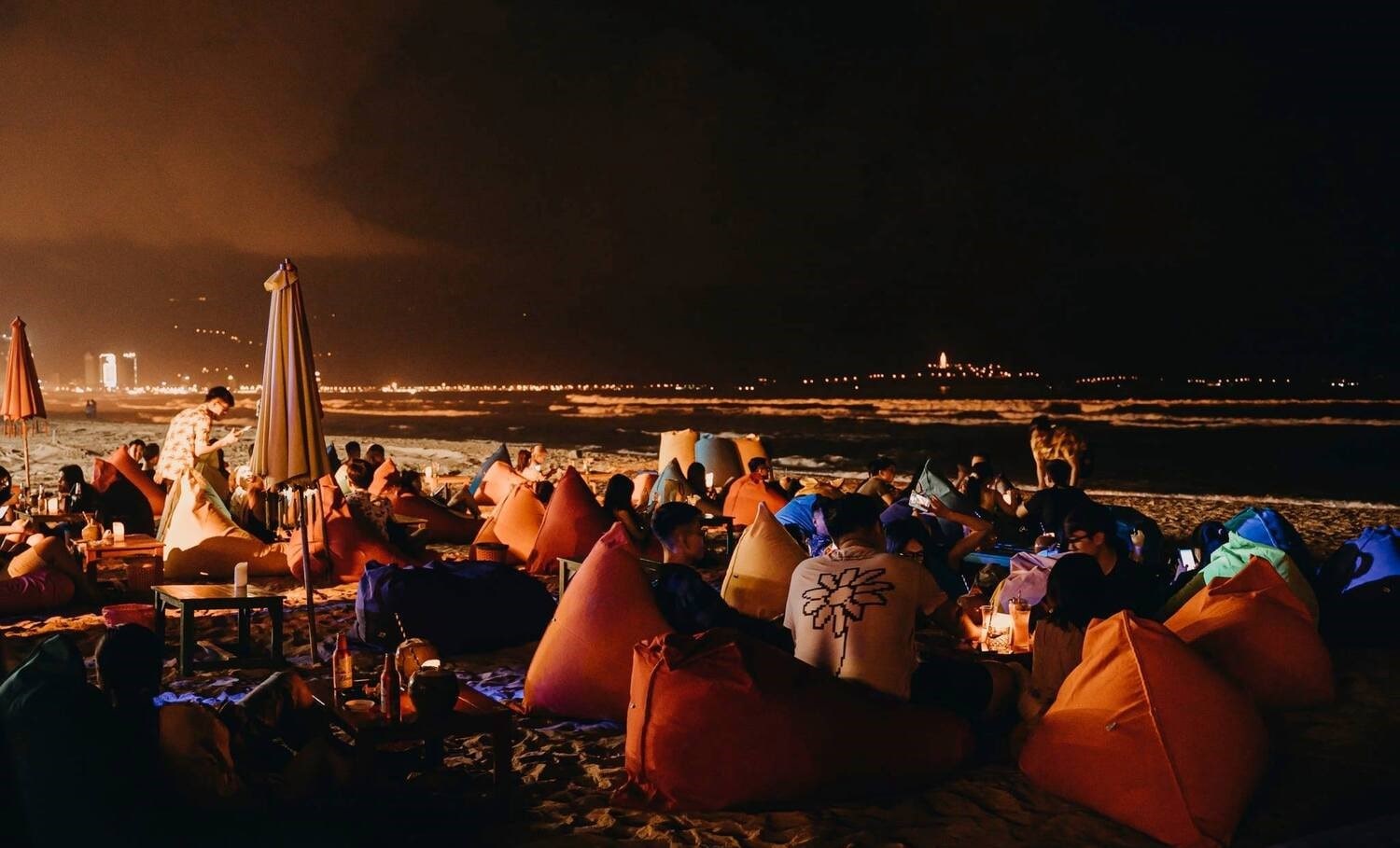 Notes when walking on the beach in Da Nang at night
Da Nang beach at night is so beautiful, isn't it? What are you waiting for without dressing up to enjoy a wonderful day at Danang and Mandila Beach Hotel. Wishing you an enjoyable and memorable vacation!
Mandila Beach Hotel:
Address: 218 Vo Nguyen Giap, Phuoc My Ward, Son Tra District, Da Nang.

Hotline: 02036 730 6666

Email: info@mandilabeachhotel.com 

Website:

https://mandilabeachhotel.com/